Via Roma - Albany, New York 12205 - Colonie Center
Store location, hours, contacts
Via Roma store or outlet store located in Albany, New York - Colonie Center location, address: 131 Colonie Center, Albany, New York - NY 12205. Find information about hours, locations, online information and users ratings and reviews. Save money on Via Roma and find store or outlet near me.
---
Via Roma in Albany, New York 12205 - Colonie Center - MAP
GPS Coordinates: 42.70852, -73.820186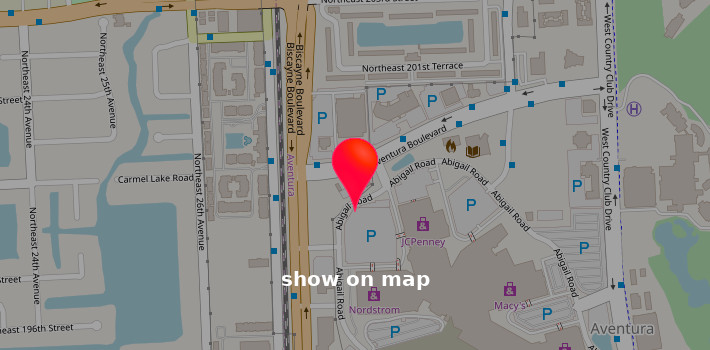 Get directions to Via Roma located in Colonie Center
Driving directions and locations to store: Via Roma located in Colonie Center: 131 Colonie Center, Albany, New York - NY 12205.
More Via Roma Fashions stores
All Via Roma Fashions store locations
---
Hours - Via Roma (Colonie Center)
Mall Black Friday & Holiday hours »
Monday:
10:00 AM - 9:30 PM
Tuesday:
10:00 AM - 9:30 PM
Wednesday:
10:00 AM - 9:30 PM
Thursday:
10:00 AM - 9:30 PM
Friday:
10:00 AM - 9:30 PM
Saturday:
10:00 AM - 9:30 PM
Sunday:
11:00 AM - 6:00 PM
Nearby Malls, Shopping Centers and Outlets
Reviews
Coustmer
Very nice store excellent service
Very Dissatisfied Customer
I bought a suit from the store. Upon wearing it, I noticed a tear by the pocket and noticed that the suit had an open pocket. I brought the suit back to the store and asked for an exchange of the jacket. (This was well within' the stores 14 day return policy) The manager asked if I requested that the pocket be cut open when I purchased the suit. I stated that I did not. He then when to the back of the store and brought out the woman who sold me the suit and asked if she had cut the pocket open for me. She said no. He then told her that I accused her of "cutting" my suit. I stated that this was not the case and that I specifically stated that I did not request that. Finally he said he would get the "suit repaired, or replaced." And I "will be happy with the suit. Come back Friday and it will be ready. If you're not happy I will give you a gift card." I stated that I did not want anything for free. I just wanted what I paid for. I told him I did not understand why he was giving me such a hard time. He said "no hard time. If the suit can't be fixed, then she will be responsible for it" insinuating the woman who sold me the suit would be financially responsible. A woman at the counter filled out an order ticket for me with a pick up date of Friday. Friday came and went and I did not hear from the store. Saturday came and went and I did not hear from anyone at the store. Sunday I decided to call. I spoke with a woman on the phone who checked my ticket number and stated that the suit was still at the tailor's. I told her that I was told my suit would be ready by Friday, my ticket had a pick up date of Friday, and I haven't heard from anyone and I needed my suit for an event on Monday evening. I also told her that I would take the suit back even if it was not repaired at this point. I just wanted to be done with this whole thing. I told her that was considering filing a complaint with the BBB if I could not get my suit back by Monday afternoon. She said she would have the manager call me when he got in at 2PM. The manager returned my call and left a voicemail at 5:08PM stating, "My tailor found a solution to your suit. I'm sure you will be very happy, Sir. I will be in tomorrow from 2PM until 8PM. I hope you have a wonderful day." After calling the store three times on Monday, and getting no answer, I drove over on my break from work. Upon entering the store the manager told me that my suit would not be there until tomorrow and it was still at the tailor's. I asked him why he would leave a message telling my suit was ready and I would be satisfied if my suit was not ready. I told him that I had called the store three times and had gotten no answer. He looked around and smiled and said "as you can see, we are very busy." (I was the ONLY person in the store) I then told him that I was going to contact the BBB and he then immediately became angry. He said "get out of my store! I can have you arrested right now! Get out of my store! I own 20 stores. I have lawyers. I will sue you." He started cursing and calling me names. He kicked me out of the store and came around the counter and physically got into my personal space. I told him he was being totally unreasonable and they gave me a ticket saying my suit would be ready on Friday. It was now three days later and I do not have my suit. He said "you wrote Friday on the ticket like you cut up your suit". (He actually accused me of forging his stores claim ticket for my suit and accused me of "cutting" my suit) I asked him to call security or management to get my suit. I stated that at this point I would take back the defective suit and be done with the whole issue. He told me to get out of his store in an expletive filled rant while continually making legal and physical threats. He told me "you are lucky you had your daughter with you when you came in here Friday or you should have seen how I would have treated you" followed by calling me a "White F*#@ing p***y". At this time I was standing outside of the store and he was standing in the store yelling this at me. There were patrons videotaping his actions. Employees from neighboring stores were coming out to watch him because he was screaming at the top of his lungs these vulgarities. I was only asking him, "when can I get my suit?" and "can I have somebody come pick up my suit? I just want my suit back." His only replies were "Get out of my store!" and "I'm not answering that!" At this point I walked away to go to the General Manager of the mall's office and I could still hear him yelling vulgarities at me until I was out of his view. I immediately went to the General Manager's office in the mall and filled out a complaint. It took the Merchant General Manager to get my suit back. I had to pick it up in her office due to the fact that I did not feel comfortable going back into the store due to being physically threatened. I ended up getting the suit from the General Manager's office on Wednesday, 5 days after I was promised it would be ready…..and after being threatened with physical violence.
Insert your opinion, review - Via Roma